Keep Your Property Safe and Eye-Catching With Tree Care Services From Forever Green Landscape Services
Turn your commercial property into a work of art with professional tree care and trimming services. Give your visitors and shoppers a beautiful view of the Atlantic Ocean or cultivate a vibrant landscape full of Delray Beach's iconic birds and turtles. Pristinely maintained palm trees, well-shaped figs and cypress trees, and pruned poplars keep your property picture-perfect for season after season of dining and shopping. In Florida, the right professional services do more than stand back and let trees flourish. At Forever Green Landscape Services, we proactively manage and care for trees on our client's properties, with regular assessments and pruning, inspections for broken branches or potential diseases and infestations, and storm protection services so you can get your landscape back on track as soon as the next tropical storm or hurricane clears. Our team has been providing Delray-area businesses with reliable, professional service for over 30 years. Our complete tree services for commercial properties across Delray Beach, Florida, include: 
Contact us today to tell our team what tree services you need for your Delray Beach, Florida, property, and we'll do the rest.
Customers Trust Us to Keep Their Trees Healthy for Years
Excellent communication is the cornerstone of our business, and our customers' feedback is a valuable part of how we ensure we're offering the best possible services. We work hard to offer transparency and comprehensive care so every customer can see exactly how the properties they manage are improving and rest assured that each landscape is in good hands. See why our customers trust us with the long-term care, maintenance, and improvement of their neighborhood properties by reading about their experiences with Forever Green's commercial landscaping services.
Professional Tree Care Protects Your Property—And Your Business
Beautiful trees and towering, well-maintained palms turn your property into an eye-catching destination with great curb appeal. But it does far more than that. Professional maintenance reduces the risk of overgrown trees blocking pedestrian crossings from sight and the risk of broken branches and boughs falling down during business hours. Not only does comprehensive tree care reduce the risk of damage, injury, and breakage, but it also protects your business from the fallout of those accidents. When you choose Forever Green for a tailored tree services plan, we provide:
See How Comprehensive Care Can Enhance Your Commercial Landscape
Explore our gallery of landscape designs, managed commercial properties, and more. You'll see our attention to detail and commitment to excellent service from every angle.
We Make It Easier Than Ever to Get Tailored Tree Services You Can Trust
At Forever Green, our six-step process is carefully designed so you feel confident in the plan for your property's landscape and that you are getting the best return on investment for your landscape services budget. We communicate with you every step of the way so you have complete control over the services you receive, the timeline, and the scope and budget. See how simple our process is for you:
Step One: First Contact

We welcome inquiries from property managers, HOA board members, and other members of management who want to discuss our landscaping services. You can contact us by phone or our convenient online form. We respond quickly, usually within 24 business hours. If you call before noon on a business day, we try to get back to you before the end of the work day. If you contact us after noon, we try to return your call before noon on the following work day.

Step Two: Consultation

Your first phone consultation helps us determine if we are the right landscaping company for your needs. We will ask what kind of property you manage, where it is located, how many units you have, and if your property is currently managed by another landscaping company. We will also discuss the services you desire, such as tree care, lawn mowing, or a complete maintenance package.

Step Three: Landscaping Evaluation

This step is quite often an on-site visit. You walk our team member through your property and talk about the areas you want serviced. It may make more sense for you to meet with our landscape professional in person, but not necessarily on your property. We can do this, too, but meeting with more than three board members at any given time is considered an official meeting, and it would have to be posted.

Step Four: Custom Plan and Agreement

Before drawing up your custom plan, we will determine what type of services you are looking for. These may include seasonal enhancements, lawn mowing, shrub maintenance, pest control programs, fertilization programs, irrigation programs, tree care, or a full maintenance package. Then, we will measure your property, analyze it, take photos, and determine sizes, times, and amounts. We will also discuss your budget. 

Once the proposal is prepared, we will email it to you and talk about it via an online meeting or an in-person meeting, or we will send the proposal to you with a video. At this time, we can also provide customer references. If everything meets your approval, you sign the agreement.

Step Five: Installation and/or Maintenance Work Begins

For landscape maintenance customers, we add you to our schedule, usually beginning at the first of the month or the 15th day of the month. If your current vendor decides to walk away from the project, we can come in early to take over the management. We will create a schedule for mowing, trimming, etc., and email the schedule to you. We complete The Forever Green Walk-Thru — this is when we provide a walk-thru clean-up. And we're kind of obsessed about it.

For clients who want enhancements installed, we create a simple sketch of the plant or tree replacements, and then schedule when the work will be performed. We will locate the materials necessary for your project, and our team will arrive on site with a site map to show where everything goes. We hand water everything, whether or not this was listed in your maintenance package, and we will educate you on continuous watering for the next 2-4 weeks.

Step Six: Ongoing Service and Guarantees

For service outside of our routine service calls, you can submit work orders through our website or through your property manager via email.

Our plantings are guaranteed as long as Forever Green maintains your property, with the exception of seasonal annuals and storm damage.

For more information about our professional landscaping process, please contact us. We are happy to help.
Keep Your Property Pristine With Landscape, Storm Services, and More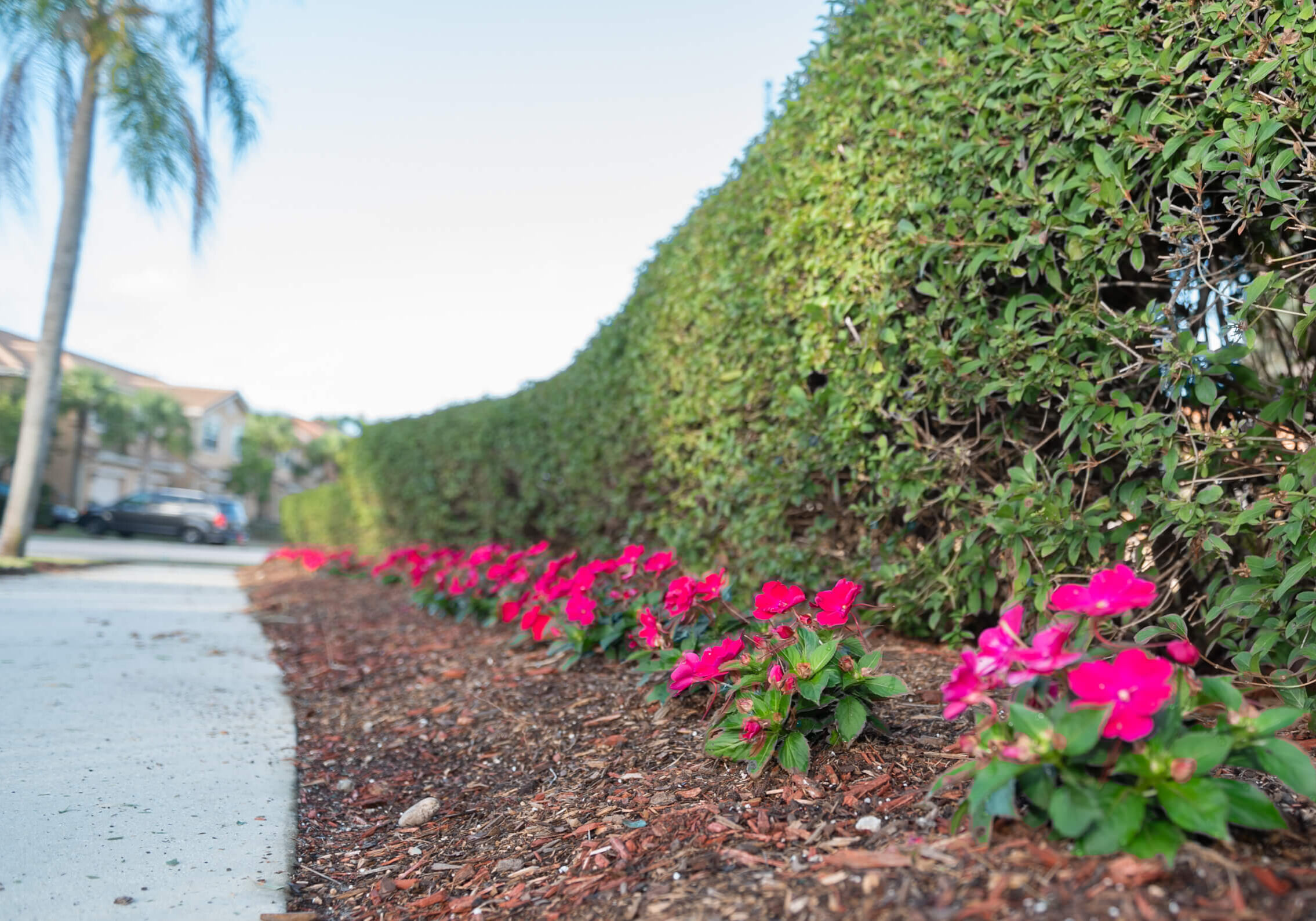 Proudly Serving Businesses Across Delray Beach, Florida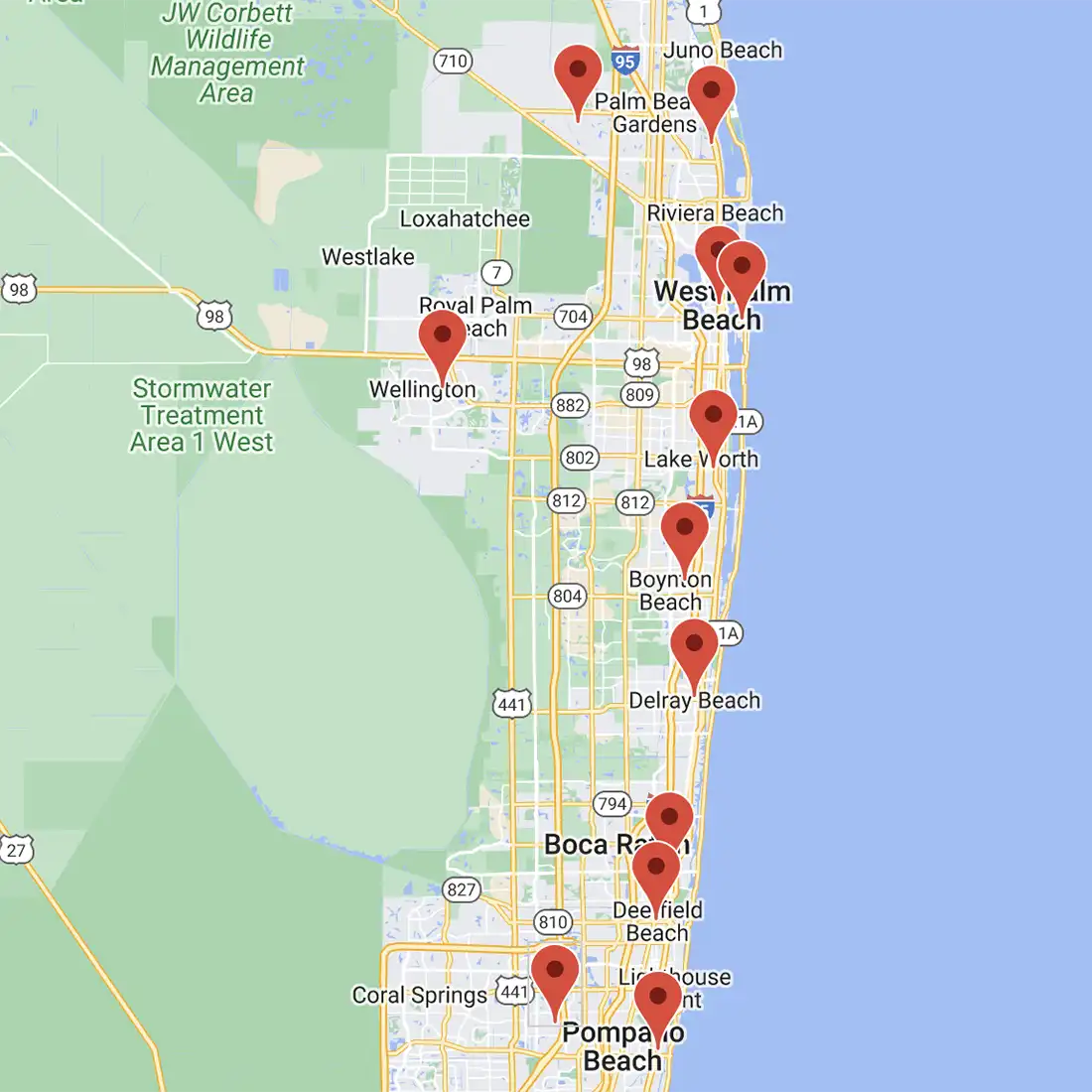 Forever Green is a team of Florida locals, and we love serving our community by keeping neighborhoods crisp, green, and beautiful. If you manage townhomes, condominiums, 55+ communities, or neighborhoods in the area, we can help. We serve the following communities:
Take Your Career to New Heights by Joining Forever Green's Team!
Are you a professional, efficient, and friendly nature lover? We want to work with you! We offer on the job training, a great team environment, and both fulltime and part time positions. If you're interested in advancing your landscaping career, you'll find a home with Forever Green. Check out our careers page for additional information and to browse open positions. If you don't see the right job listing for you, just reach out with your resume. We'd love to hear from you.
Tired of Overgrown Trees? Turn to the Experts at Forever Green
Find tree care services that perfectly align with your property's needs with Forever Green. Contact us today and fill out our online form to get started.