Forever Green Landscape Services Specializes in Bringing Older Landscapes to Their Full Potential
Landscaping fads fall in and out of style, but crisp, clean landscaping is never out of fashion. If you manage an older HOA neighborhood or active living community that needs a fresh landscape, the experts at Forever Green Landscape Services are here to help. Our professional team of landscapers and designers can revitalize your property with new plant installations, landscaping features, and long-term improvement projects so your property always looks modern, appealing, and inviting.
Replace overgrown hedges and plants with fresh, sturdy plants your residents and visitors will love, and have fresh seasonal flowers installed at the entrances to your community and main buildings. Brand new plants and commercial landscape installations show your residents and visitors that you care about the property and proactively ensure residents have a wonderful experience. Along with wowing your residents and guests, you can update the look and feel of the property to boost its curb appeal and value. Every commercial landscape installation is an investment in the Delray Beach, Florida community that brings a high short-term and long-term ROI.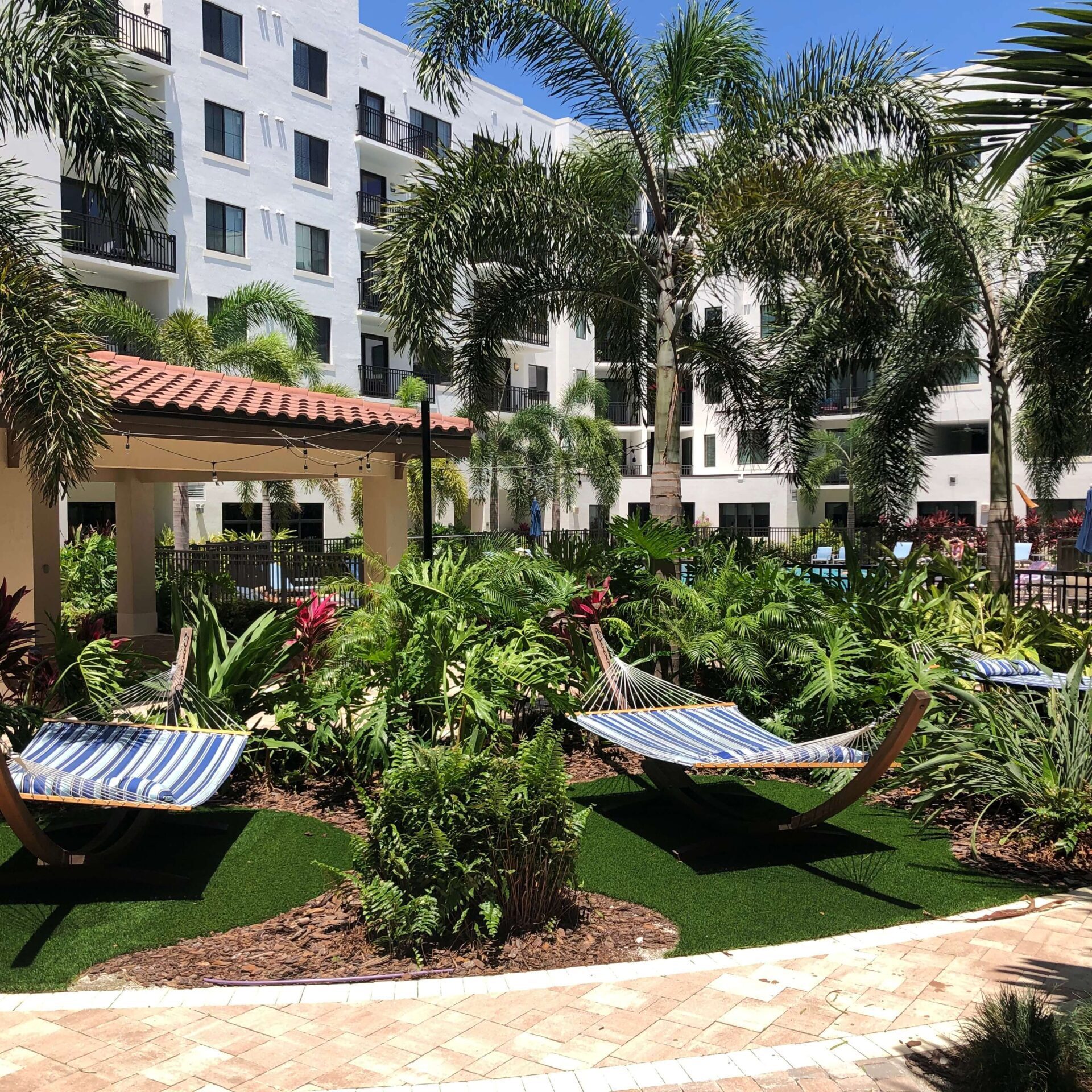 At Forever Green Landscape Services, we use the latest technologies and techniques for each of our services, so every landscape benefits from modern styles, green technologies and irrigation systems, and the latest safety practices. Our teams are professional during every visit, and we always leave your property looking cleaner and neater than before (even during in-progress projects). Your residents will feel safe around our uniformed employees because we always show up in professionally wrapped vehicles and with safe tools. Our teams also power down equipment when residents and visitors are walking by so they can enjoy the property uninterrupted.
Whether you're looking to revitalize your entire managed property or you want new landscape installations to add a burst of color and appeal to the community, contact us for professional, immediate service.
See What Other Managed Communities and Neighborhoods in Your Area Say About Our Landscaping Services
Excellent communication is the cornerstone of our business, and our customers' feedback is a valuable part of how we ensure we're offering the best possible services. We work hard to offer transparency and comprehensive care so every customer can see exactly how the properties they manage are improving and rest assured that each landscape is in good hands. See why our customers trust us with the long-term care, maintenance, and improvement of their neighborhood properties by reading about their experiences with Forever Green's commercial landscaping services.
Fully Managed Commercial Landscape Installation Projects Are Easy With Forever Green
At Forever Green Landscape Services, we specialize in managed neighborhoods and active living communities just like yours. We know the unique problems and needs your property has, and our services are tailored to meet them. With our commercial landscape installation services, you receive:
Explore Our Delray Beach, FL Area Landscaping Projects to Find Your New Favorite Style
See what other communities in your area are doing to beautify their properties by browsing our gallery of completed commercial landscape installation projects. You'll find inspiration and see our commitment to detailed, high-quality work in every image.
Enjoy Beautiful New Commercial Landscape Installation Services With Our Simple Six-Step Process
At Forever Green, our six-step process is carefully designed so you feel confident in the plan for your property's landscape and that you are getting the best return on investment for your landscape services budget. We communicate with you every step of the way so you have complete control over the services you receive, the timeline, and the scope and budget. See how simple our process is for you:
Step One: First Contact

We welcome inquiries from property managers, HOA board members, and other members of management who want to discuss our landscaping services. You can contact us by phone or our convenient online form. We respond quickly, usually within 24 business hours. If you call before noon on a business day, we try to get back to you before the end of the work day. If you contact us after noon, we try to return your call before noon on the following work day.

Step Two: Consultation

Your first phone consultation helps us determine if we are the right landscaping company for your needs. We will ask what kind of property you manage, where it is located, how many units you have, and if your property is currently managed by another landscaping company. We will also discuss the services you desire, such as tree care, lawn mowing, or a complete maintenance package.

Step Three: Landscaping Evaluation

This step is quite often an on-site visit. You walk our team member through your property and talk about the areas you want serviced. It may make more sense for you to meet with our landscape professional in person, but not necessarily on your property. We can do this, too, but meeting with more than three board members at any given time is considered an official meeting, and it would have to be posted.

Step Four: Custom Plan and Agreement

Before drawing up your custom plan, we will determine what type of services you are looking for. These may include seasonal enhancements, lawn mowing, shrub maintenance, pest control programs, fertilization programs, irrigation programs, tree care, or a full maintenance package. Then, we will measure your property, analyze it, take photos, and determine sizes, times, and amounts. We will also discuss your budget. 

Once the proposal is prepared, we will email it to you and talk about it via an online meeting or an in-person meeting, or we will send the proposal to you with a video. At this time, we can also provide customer references. If everything meets your approval, you sign the agreement.

Step Five: Installation and/or Maintenance Work Begins

For landscape maintenance customers, we add you to our schedule, usually beginning at the first of the month or the 15th day of the month. If your current vendor decides to walk away from the project, we can come in early to take over the management. We will create a schedule for mowing, trimming, etc., and email the schedule to you. We complete The Forever Green Walk-Thru — this is when we provide a walk-thru clean-up. And we're kind of obsessed about it.

For clients who want enhancements installed, we create a simple sketch of the plant or tree replacements, and then schedule when the work will be performed. We will locate the materials necessary for your project, and our team will arrive on site with a site map to show where everything goes. We hand water everything, whether or not this was listed in your maintenance package, and we will educate you on continuous watering for the next 2-4 weeks.

Step Six: Ongoing Service and Guarantees

For service outside of our routine service calls, you can submit work orders through our website or through your property manager via email.

Our plantings are guaranteed as long as Forever Green maintains your property, with the exception of seasonal annuals and storm damage.

For more information about our professional landscaping process, please contact us. We are happy to help.
Beautify Your Managed Community Landscape With Services From a Single Landscaping Company
Learn more about our services and commitment to quality landscaping by visiting our main services page.
We Serve Active Living Communities and Neighborhoods in Delray Beach, Florida, and the Surrounding Area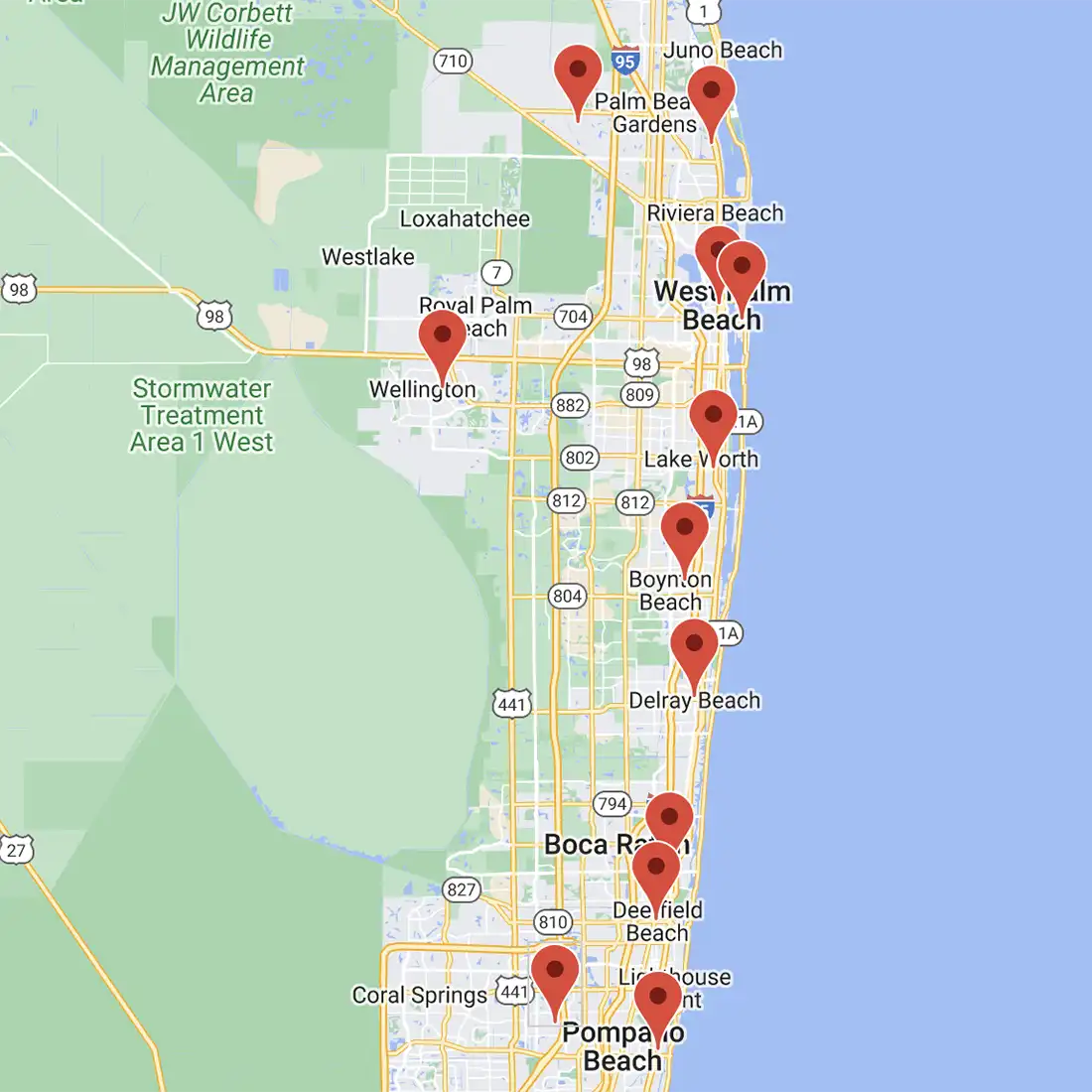 Forever Green is a team of Florida locals, and we love serving our community by keeping neighborhoods crisp, green, and beautiful. If you manage townhomes, condominiums, 55+ communities, or neighborhoods in the area, we can help. We serve the following communities:
We're Hiring! Join Our Team of Expert Landscapers at Forever Green Landscape Services
We Offer Training, Career Growth, and a Great Team Environment to Landscapers Committed to Excellence
Are you a professional, efficient, and friendly nature lover? We want to work with you! We offer on the job training, a great team environment, and both fulltime and part time positions. If you're interested in advancing your landscaping career, you'll find a home with Forever Green. Check out our careers page for additional information and to browse open positions. If you don't see the right job listing for you, just reach out with your resume. We'd love to hear from you.
Getting a Fresh New Landscape Is Easy! Contact Us Today for Premium Commercial Landscape Installation Services
A landscape refresh with new plants and landscape installations is a great way to attract new residents and make your current residents love your community even more. Contact Forever Green today to get started on a brand new landscape. Our team of professionals can install new plants, grass, and landscaping features.