Forever Green Installs French Drains and Drainage Solutions for Neighborhoods and Residential Communities
West Palm Beach, Florida, receives over sixty inches of rain every year. Without adequate drainage, that downpour can turn your community's green areas and lawns into muddy patches and puddles. French drains and professional landscape design can control rainfall to direct it to municipal drains and away from lawns and walkways. Forever Green can help give your HOA neighborhood or 55+ community the landscaping foundation it needs to stay beautiful season after season, no matter the weather.
French drains are appealingly designed trenches with pebbles and stones that provide pathways for rainfall and groundwater to filter away from where your residents walk, play, and enjoy the outdoors. By controlling against the risk of floods and standing water, we can preserve delicate landscape installations, keep your turf healthy, and even mitigate pests that thrive on standing water. Contact us today to learn more about how we can incorporate French drains into your community's landscape for years of improved curb appeal and easy management.
See Why Our Clients Love the Benefits of Our Expertly Designed and Installed Drainage Solutions
Excellent communication is the cornerstone of our business, and our customers' feedback is a valuable part of how we ensure we're offering the best possible services. We work hard to offer transparency and comprehensive care so every customer can see exactly how the properties they manage are improving and rest assured that each landscape is in good hands. See why our customers trust us with the long-term care, maintenance, and improvement of their neighborhood properties by reading about their experiences with Forever Green's commercial landscaping services.
French Drainage from Forever Green Is More Than Just Drainage
We believe in the importance of building long-term improvements and strong relationships. French drains make HOA neighborhoods, community common areas, and homes with a low slope gradient more appealing every season because residents don't have to worry about standing water or the associated risks. Key benefits of choosing professionally installed landscape drainage solutions include:
See What a Difference Drainage Makes in West Palm Beach, FL Communities
Expertly designed drainage doesn't stand out. But it does beautify the surrounding areas and allow plants to grow lush, strong, and sturdy. We create customized French drain solutions for neighborhoods, active living communities, and common residential areas. Browse our gallery to see how picturesque and subtle our drainage installations are.
Set the Stage for Long-Term Landscape Improvements By Taking the First Step of Our Six-Step Process
At Forever Green, our six-step process is carefully designed so you feel confident in the plan for your property's landscape and that you are getting the best return on investment for your landscape services budget. We communicate with you every step of the way so you have complete control over the services you receive, the timeline, and the scope and budget. See how simple our process is for you:
Let Us Know What You're Looking For. Contact us today or fill out our online form to schedule a call to discuss your property. After this initial call, we can schedule an on-site walkthrough and a Community Landscape Plan Review Meeting. During the call, we'll need to know: 

The number of homes in the community you want maintained
The location
Whether you want landscape services for the common grounds or the common grounds and homes
Your preferred start date and budget

We'll Conduct a Landscape Review During an Onsite Visit. We customize our services to fit our clients' needs. A representative from our team will arrive in a branded shirt to video your property or manage an in-person review of the property.

We'll Send You a Personalized Community Landscape Plan and Video. Within a week of the on-site review, our team will send you a video Community Landscape Plan so you can visualize our services and determine if they're the right fit for your property.

Let Us Know What You Think At a Community Landscape Plan Review Meeting. During this meeting, our founder or Account Manager will speak with you to learn your thoughts about the Community Landscape Plan. We'll answer your questions, revise your plan, and make sure the pricing fits you and your team's budget. This meeting can be in-person, over Zoom, or during a board meeting.

Finalize and Sign the Landscape Services Agreement. After our meeting, our team will revise your plan and send you a final copy outlining our comprehensive services, starting schedule, and other specifics. 

Let Us Handle the Rest! Once you approve and sign the agreement, our team will show up promptly on the agreed-upon start date — either thirty days after signature or immediately, as needed — to begin commercial landscaping services and maintaining or improving your property. You can reach out to us at any time.
Forever Green Offers Extensive Landscape Maintenance Services for West Palm Beach, Florida Communities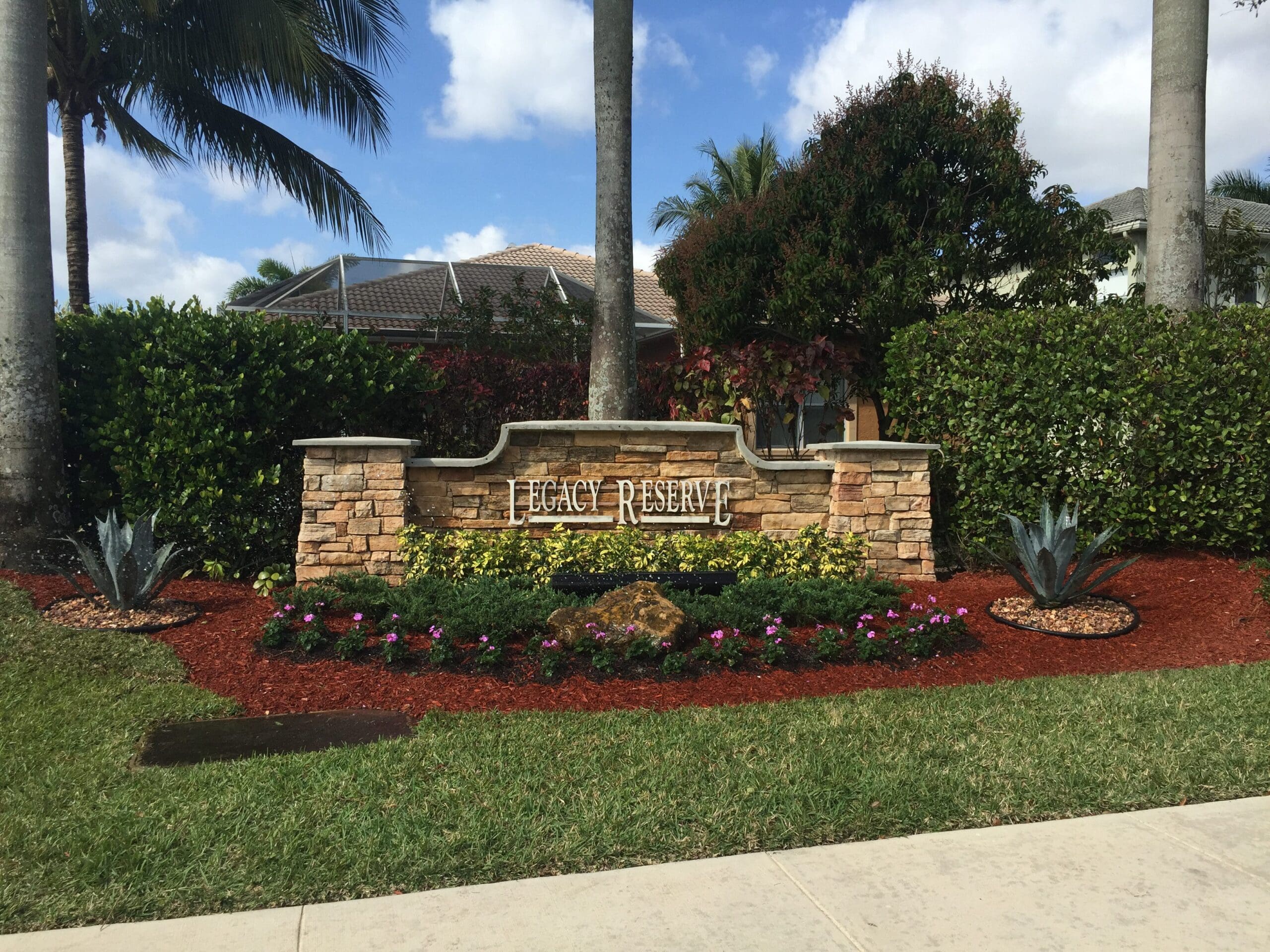 At Forever Green, we offer an extensive range of landscaping care and maintenance services. We can keep your lawns lush and well-maintained, trim your trees to keep them healthy and the surrounding area safe, and more. Our West Palm Beach, FL storm and hurricane services are also perfectly tailored to refresh your new landscape installation after the next storm or hurricane.
We Serve West Palm Beach and the Surrounding Area
Forever Green is a team of Florida locals, and we love serving our community by keeping neighborhoods crisp, green, and beautiful. If you manage townhomes, condominiums, 55+ communities, or neighborhoods in the area, we can help. We serve the following communities:
Want to Expand Your Drainage and Landscaping Expertise? Join Our Team Today
Are you a professional, efficient, and friendly nature lover? We want to work with you! We offer on the job training, a great team environment, and both fulltime and part time positions. If you're interested in advancing your landscaping career, you'll find a home with Forever Green. Check out our careers page for additional information and to browse open positions. If you don't see the right job listing for you, just reach out with your resume. We'd love to hear from you.
Set the Foundation for a Healthier Community Landscape with Forever Green
Don't let Florida's wet seasons ruin your community's landscaping or flood the walking paths. Our drainage solutions can help control the flow of rainwater so your residents can enjoy the outdoors. Contact us today to get started.