We Create Long-Term Relationships with Our Clients to Beautify Our Communities and Build Long-Term Trust
At Forever Green, we know that behind every West Palm Beach, Florida property is a community of residents who love enjoying beautiful nature and an organization that cares about fostering growth and pride in the community. That's why we work hard to create an easy, communication-forward experience for our clients that puts your plans for your community's growth first. We'll listen to your requirements for your community's landscaping, your hopes for long-term improvements, and what you want your community's green areas and lawns to look like season after season. We'll work together from the start to create a personalized landscape management plan, and that's just the start — you can reach out to your Account Manager anytime for new improvements, storm cleanup, and more.
It's important to have commercial landscape contractors that you feel comfortable having in your HOA-managed neighborhood, townhome and condominium community, or active living community. That's why our teams will always arrive promptly in marked vehicles and in uniforms — not only will you feel assured by our professional performance, but your residents will feel safe. As part of our commitment to professionalism, our teams always act with respect, leave your community property clean and neat, and turn down landscaping equipment when people and pets pass by. We provide expert landscaping services that your residents appreciate and never feel inconvenienced by.
Forever Green is ready to transform your West Palm Beach, FL landscape. We can help you create a three- to five-year plan for dramatically improving your neighborhood or community's landscaping to appeal to your residents and visitors, and we offer protective services that help your landscape thrive before, during, and after heavy storms and hurricanes. At Forever Green, we're here for your property's long-term care.
Our Team of Commercial Landscape Contractors, Tree Care Experts, and Lawn Specialists Offer Comprehensive Landscape Management Season After Season
At Forever Green, we offer complete lawn and landscape management services for community green areas, neighborhood HOAs, condominiums, townhomes and active adult communities. You can simplify your property management oversight by working with a single service provider, and we specialize in efficient services that help both your bottom line and the property itself. Our professional teams can make your property lush, clean, and appealing through long-term improvements that make the landscapes better year over year and enhancement projects. Our Boca Raton, Florida, landscaping services include:
Learn more about our services and commitment to quality landscaping by visiting our main services page.
Meet Scott, the Founder and President Behind Forever Green
For over 25 years, Scott Callenius has been improving and developing the landscapes in HOA-managed neighborhoods, active living resorts, and townhome and condominium communities in West Palm Beach. A long-time South Florida resident, he cares about creating and managing landscapes that highlight the region's vibrant beauty and that residents love.  He's created a team of expert landscapers and hard-working employees that provide expert landscaping care, friendly communication, and comprehensive services that you and your residents will love.
How does our CEO view the Forever Green team?
Check out this interview with CEO Scott Callenius
Our team is full of dedicated landscaping experts that love transforming properties over three to five years with long-term, meaningful improvements. Our team includes tree care specialists, landscape lighting technicians, and nature enthusiasts that have years of experience creating eye-catching community landscapes in the West Palm Beach, Florida, area. Each member of our team cares about your community property's unique needs and what you want to see in its landscaping year after year.
Our team is led by industry veteran Sergio Zepeda. Sergio is our field supervisor, and he'll work with you to make sure our team brings your vision for your community's landscaping to life with long-term improvements that increase the neighborhood's curb appeal and value. He has over 25 years of experience creating, maintaining, and managing beautiful community landscapes that fit within each client's timelines and budget.
Our Purpose/Cause/Passion
We enhance our clients properties with our people and our services
We provide landscape solutions for growing communities in Palm Beach (South Florida)
We complete our tasks on-time and under budget

We leave our communities in perfect shape

We attack the day
We hold ourselves to the highest of standards

We are coachable, we get a little better everyday

We out produce our competition
Improve every community we serve
We make steady improvements to each community we serve

We will provide the services we promised to deliver

We under promise and over deliver
Mesmerizing clients with our teams
We dress for success

We respect their personal property

We over deliver on our promises
We're Proud to Serve the South Florida Region We Call Home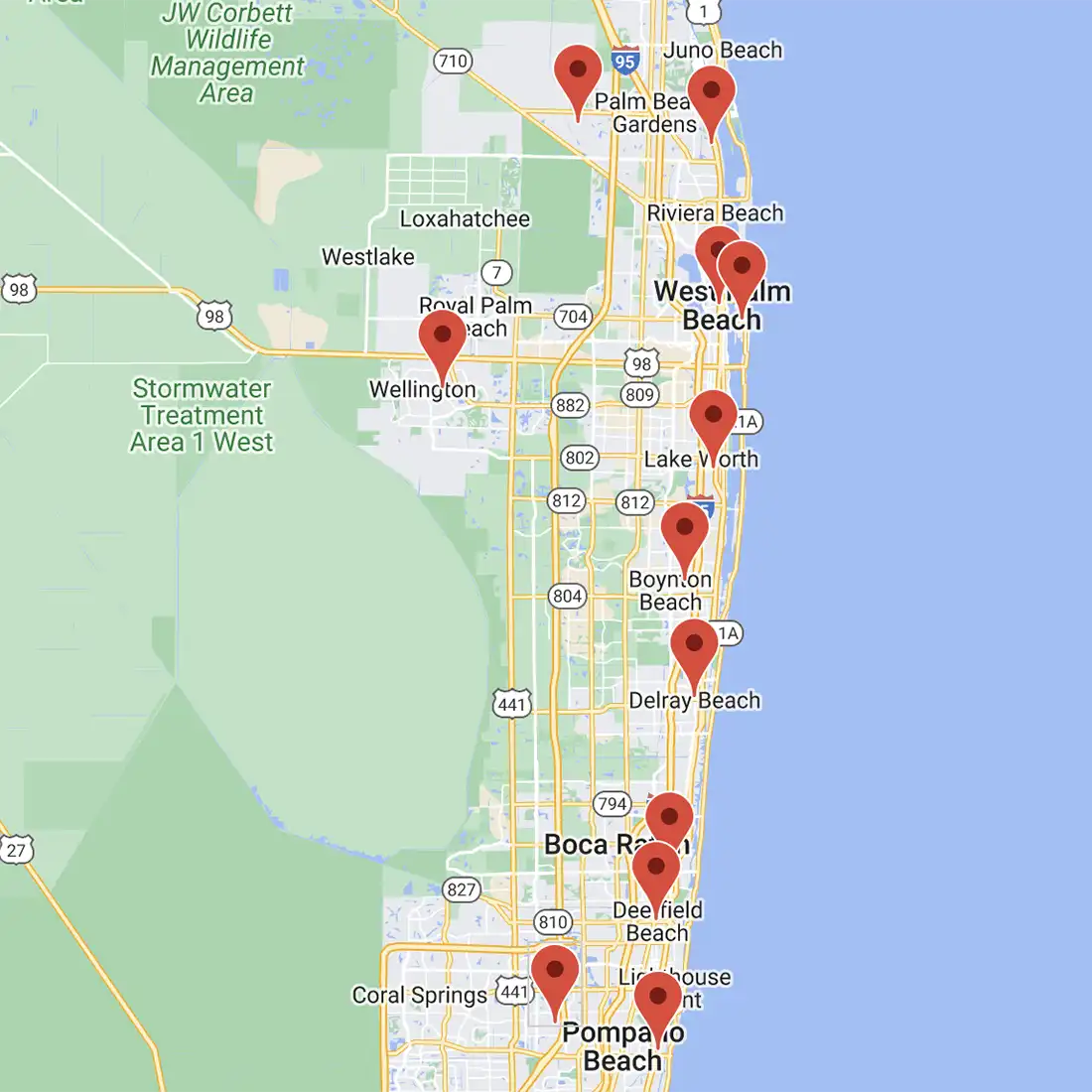 Forever Green is a team of Florida locals, and we love serving our community by keeping neighborhoods crisp, green, and beautiful. If you manage townhomes, condominiums, 55+ communities, or neighborhoods in the area, we can help. We serve the following communities:
If You Love Florida's Vibrant Nature and Creating Beautiful Landscapes, Join Our Team Today
Are you a professional, efficient, and friendly nature lover? We want to work with you! We offer on the job training, a great team environment, and both fulltime and part time positions. If you're interested in advancing your landscaping career, you'll find a home with Forever Green. Check out our careers page for additional information and to browse open positions. If you don't see the right job listing for you, just reach out with your resume. We'd love to hear from you.
Talk to Us Today About Improvements You'd Love to Make to Your Neighborhood or Community's Landscape — We Can't Wait to Get Started!
Choosing the right landscaping contractors is about more than the finished product. At Forever Green, we create a streamlined, convenient process that gives you the landscape and level of professional care you expect. We prioritize transparency, complete customer satisfaction, and expertise so you can trust our team of commercial landscape contractors season after season and year after year. Contact us today to talk with our team and start creating a personalized landscape management plan that makes your community stronger.